Economical Shadow sails with the highest quality.
There are apparently very cheap sails on the market. After a while you will see the reason. The fabrics are discolored, and lose elasticity, the seams fray and the anchors lose strength.
Catvela

makes the sails personalized, adapting them to each space, always working with the best fabrics .
Shade sails CatVela Basic are an excellent solution to shade large areas in patios, terraces, gardens with all the quality and aesthetics, and an unbeatable price. They are designed so that the same user can design and install their own SAIL. You only need a minimum knowledge of DIY. CatVela accompanies and supports the client throughout the installation process to ensure a good result.
The sails CatVela Basic are made of materials resistant to weathering and ultraviolet radiation. Anyway, to achieve greater durability, it is advised that the tarps and masts be removed during the winter. The stainless steel anchors installed in walls or ceilings remain in place until the next placement of the SAIL.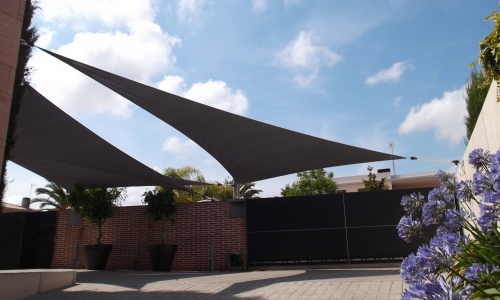 Advantages
Absence of noise even in strong winds.
High wind resistance.
Assembly and disassembly in a few minutes.
Resistance to sun and dirt. Easy cleaning and long lasting.
High quality of the materials used in the nautical sails.
Stainless steel or aluminum anchors.
Optimal use of surfaces and spaces.
Optimal price-quality ratio.